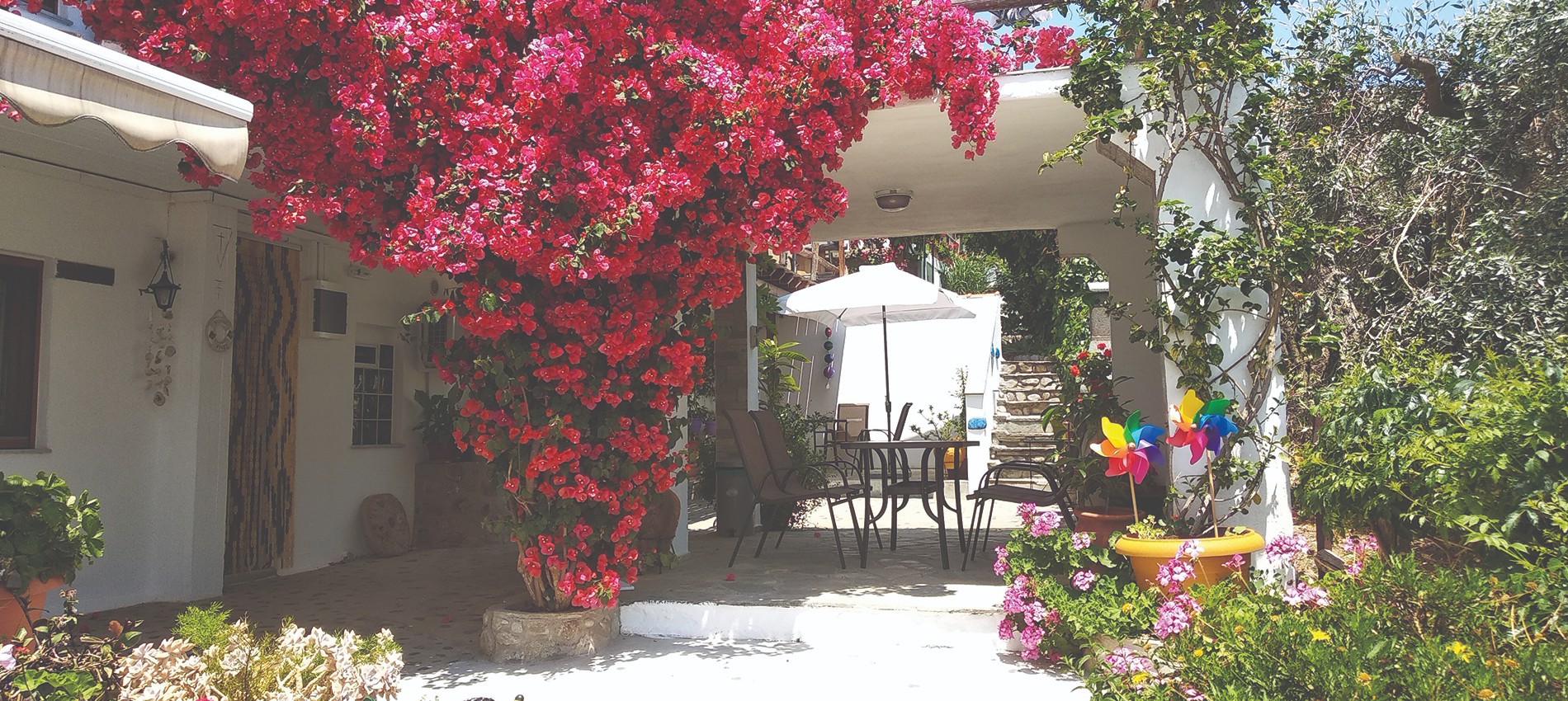 "Studios Kolios" is located on the beautiful island of Halkidiki, Ammouliani, 300 meters outside the settlement, before the junction for Agios Georgios – Alykes.
This is a family business (formerly called for those who remember: LEONTOPOULOU Rooms ATHENS) that from 1985 until today offers a pleasant stay to its guests.
The large balconies of the upper floor overlook the sea at 40m and in the background Mount Athos stands out imposingly.
The yard on the ground floor with beautiful flowers and trees creates an intimacy and comfort.
The rooms have:
Air Condition, TV, kitchenette partially equipped with refrigerator and WC, can accommodate from 2-4 people.
Change of sheets every three nights. Pets are not allowed. Parking in Alana.
Cleanliness, respect for the space and the observance of common quiet hours are our basic principle.
The island has a doctor's office and a pharmacy. For food and drink there are options for all wallets. You can also enjoy your swim on the beaches with crystal clear waters. One of the most favorite, the beach of Ag. Georgiou with picturesque beauty and Megali Ammos.
This summer, choose Ammouliani for your vacation.
We are waiting for you!
In Ammouliani you will find some of the most beautiful beaches of Halkidiki. Alykes, Karagatsia, Megali Ammos and Ai Giorgis are just some of them. Most are organized, but maintain a pleasant atmosphere of relaxation. By renting a boat you can also tour the secluded beaches that are scattered both in Ammouliani and the nearby islands of Drenia. The fine golden sand and the turquoise waters, ideal for diving, fishing or diving, rightly make Ammouliani "the hidden diamond of Halkidiki".
Mount Athos or as it is officially called the Holy Community of Mount Athos is an "Autonomous Monastic State" within Greece (perhaps unique in the world, with the exception of the secular Lhasa of Tibet), on the peninsula of Mount Athos in Halkidiki, Macedonia, which is considered its center Orthodox monasticism.
On the beach of Ai Giorgis, just below the church you will find the refreshment room of Thomas.
Some people say that once you come, others will surely follow…
We are waiting for you at Studios Kolios